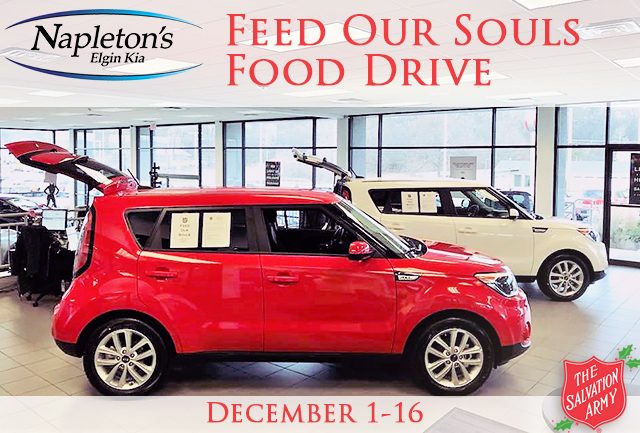 Four Kia Soul cars, Kia's fun crossover vehicle of Hamster fame, are being used to collect food to feed 385 families this Christmas season
The Salvation Army Elgin Corps Community Center is partnering with Napleton's Elgin Kia for the "Feed Our Souls" Food Drive to provide food for several hundred families in need this Christmas season.
The food drive idea was developed by Steve Napleton, general manager of Napleton's Elgin Kia. Four brand new Kia Soul cars will be parked in their showroom at 909 E. Chicago Street in Elgin from December 1-16. Each Kia will be stuffed with specific foods including potatoes, canned corn and green beans, stuffing and gravy, and desserts. Napleton states, "We're excited to partner with The Salvation Army to make the holidays a little better for local families. We're hoping for a great turnout!"
The food will be delivered after December 16th to The Salvation Army for packing, and then distributed starting December 20th to pre-qualified families with demonstrated need. According to Captain Heather Montenegro, corps officer of The Salvation Army Elgin, "Anytime we can partner with wonderful companies like Napleton Kia, we increase our impact in our community. Because of partners like them, we can meet the needs of our neighbors."
Donations of food items can be dropped off between December 1st - December 16th at Napleton's Elgin Kia on Monday-Friday from 9 am - 9 pm and on Saturdays from 9 am - 6 pm.

Food items needed are:

5 lb. bags of potatoes
Canned corn
Canned green beans
Pie or cake mix
Stuffing
Gravy


All food must be fresh, sealed, and store-bought. No homemade items are allowed.


 

Financial donations are also welcome and appreciated, and will be used to purchase fresh chicken for the food boxes. Please make checks payable to: The Salvation Army of Elgin and drop in the Red Kettle at Napleton's Elgin Kia dealership.
Other Ways to Help Provide for Families in Need in Elgin This Holiday Season:
Angel Tree & Adopt-A-Family
- Give the gift of toys and clothing to a child in need this Christmas season or support a family with toys and food. There is a virtual Angel Tree program that is ideal
for companies or families who would like to participate but do not have space for a physical Angel Tree.
Volunteer Bell Ringers Needed
- Due to a shorter bell ringing season there is a shortfall in red kettle donations. Volunteers are crucial to the success of the Red Kettle Campaign and The Salvation Army Elgin Corps is asking the community for their help. Individuals, businesses, service clubs, churches and families are invited to register for bell ringing shifts either online at
RegisterToRing.com
or call 847-741-2304 for more information.